Podcast: Play in new window | Download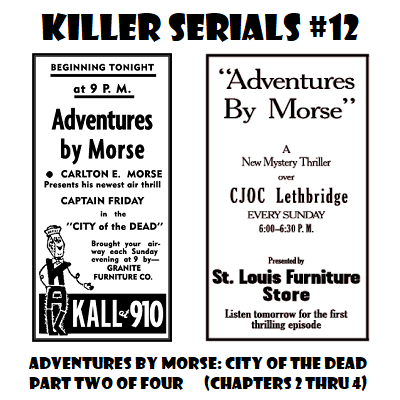 1:32:40 – Dave in Kentucky presents three more chapters of the Carlton E. Morse adventure serial, The City of the Dead, plus: radio commercials for syndicated programs, post-war reconversion, furniture stores piggybacking on the post-war housing boom, University of California branches, San Francisco's Hotel Britton, The Good Hotel, the Colma necropolis, Jackson Street apartments, personal freedom and potential dictators, stepping on graves both past and future, getting the shivers, and better living through chemistry.
This show is licensed under a Creative Commons Attribution-NonCommercial-NoDerivs 3.0 Unported License. Attribution: by Dave in Kentucky – more info at onsug.com.
Show art: sample newspaper ads for Adventures by Morse, circa 1946.