Podcast: Play in new window | Download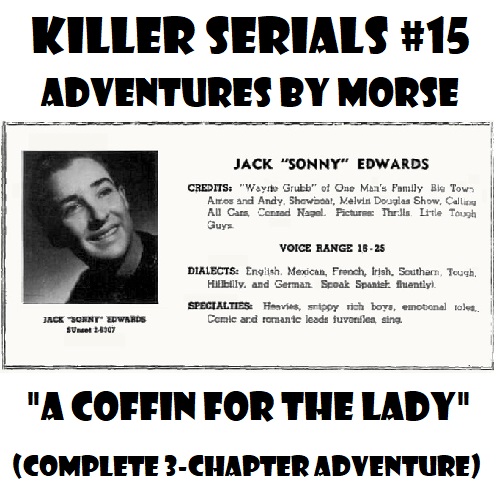 1:42:28 – Dave in Kentucky presents the complete Carlton E. Morse adventure "A Coffin for the Lady" and chats about: Skip Turner & Doc Long, Jack & Sam Edwards, Sonny & Buddy, I Love a Mystery & I Love Adventure, Jack Packard & Bart Friday, Jerry Booker, the Triple A-One Detective Agency, Reggie York, Walter Paterson, Jim Boles & Barton Yarborough, Russell Thorson, Terry and the Pirates, William Tracy & Curly Howard, The Patient in Room 18, Patric Knowles, Ann Sheridan slips one by the censors, Covid-19 & Black Lives Matter, the right to peaceably assemble, chokeholds and no-knock warrants, Minneapolis & Louisville, Rand Paul's "Justice for Breonna Taylor" bill, Euripides & Zapata, the devil, the demiurge & the Unmoved Mover, baseball, playing the national anthem to empty stadiums, disbanding the police, posse comitatus, sheriff's posses vs. rappers' posses, well-regulated militias, Merriam-Webster changing definitions, Len Deighton's Funeral in Berlin, Michael Caine, Turner Classic Movies, Ben Mankiewicz, Gone With the Wind, Fathom Events, P.Q. Ribber, Wisconsin Public Radio, The Wolf of Wall Street, "Springtime for Hitler", Mel Brooks' The Producers, Torrid Zone, and more.
This show is licensed under a Creative Commons Attribution-NonCommercial-NoDerivs 3.0 Unported License. Attribution: by Dave in Kentucky – more info at onsug.com.
Show art: Jack Edwards' entry from a radio artists directory, circa 1940.