Podcast: Play in new window | Download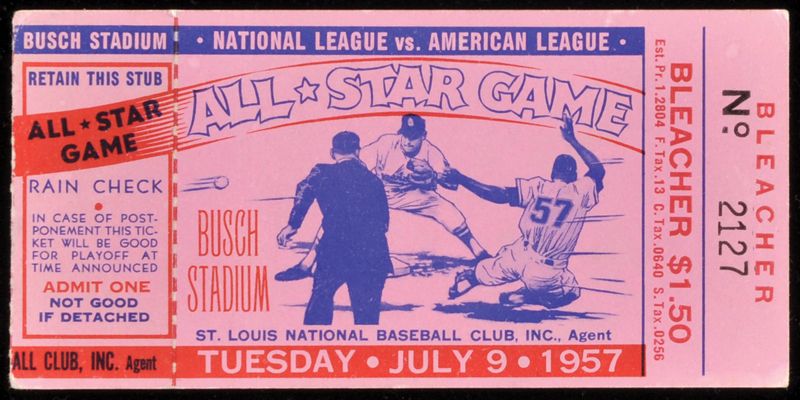 3:06:04 – To celebrate the imminent return of major-league baseball, Dave in Kentucky presents the 1957 All-Star Game, and talks about Chris Berman, the '56 and '57 Chevys, Sputnik, the Red Scare, Reds and Redlegs, stuffing the ballot box, the Cincinnati Times-Star, Burger Beer, Waite Hoyt, Ed Bailey, Johnny Temple, Roy McMillan, Don Hoak, Frank Robinson, Wally Post, Gus Bell, Buddy Bell, David Bell, George Crowe, Ted Kluszewski, Ford Frick, Willie Mays, Hank Aaron, Ted Williams, Mickey Mantle, Yogi Berra, Jim Bunning, disenfranchising the fans, Harry Caray, Falstaff, Budweiser, Jim Brosnan, The Long Season, Pennant Race, Jim Bouton, Ball Four, Fred Hutchinson, Giants and Dodgers moving to the West Coast, different versions of the national anthem, the Three Stooges and more.
This show is licensed under a Creative Commons Attribution-NonCommercial-NoDerivs 3.0 Unported License. Attribution: by Dave in Kentucky – more info at onsug.com.
Show art: the best buck-fifty you never spent.