Podcast: Play in new window | Download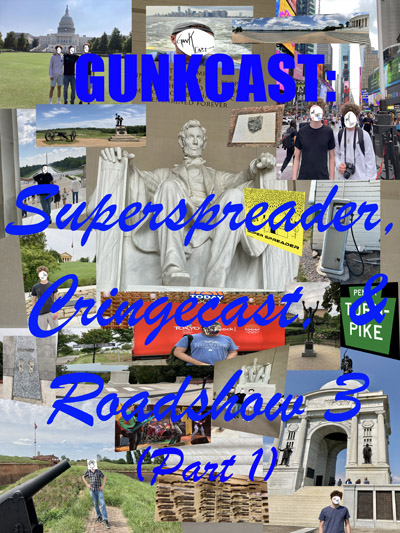 43:46 – In case you were wondering where the podcast has been, we are here to tell you that rumors of it's demise have been greatly exaggerated! That's right, Gunkcast is back for 2021 with an old school style rollicking road adventure for the show! Join Smidge and his two sons as they trek from Chicago back East to Washington D.C. & through to NYC. From the turnpikes of PA, to Gettysburg, to the nation's capital, side journeys to Baltimore & Philadelphia, & finally NYC! This episode has it all!
Some random teaser notes for this episode: old school GPS technology still works, the turnpike tunnels of PA, Smidge's sons re-brand his podcast, Gettysburg & finding the abandoned (zombie apocalypse) Eisenhower house, the big D.C. tour, Arlington Cemetery, Fort McHenry, the "Rocky Steps" in Philadelphia (& not seeing the Liberty Bell), the big NYC tour, Port Authority, Times Square, the Soup Nazi, Central Park, Lennon/Strawberry Fields, Rockefeller Center, the Staten Island Ferry, Uptown vs. Downtown, giant underground mall, & the emotionally overwhelming 911 Memorial. So much happened during this eventful road expedition that we are making this a two-part episode (for which the 2nd part includes a BIG surprise meetup)!
Also to note, Smidge's current band The GMO's provide the soundtrack to this episode for your quality music entertainment! Featured are tracks from their latest 2021 e.p. called Superspreader (as well as bonus studio outtakes and live performances)! Further musical inclusions are classic & well-placed snippets from indie bands The Pulsars & Skanatra.
Also, please share the love and listen to some of our favorite podcasts at: Onsug, Static Radio, The Hustle, & Rock Solid. A special intro tribute was done in this episode to the legacy of legendary podcaster Sam (from Insignificast & The Not New Review podcasts). He also is remembered and discussed extensively in a Static Radio episode done earlier this year (for which a group of us podcasters convened to take part in)… Farewell Sam.
License for this track: Creative Commons Attribution-NonCommercial-NoDerivs 3.0 Unported License (creativecommons.org/licenses/by-nc-nd/3.0/). Attribution: by Smidge Kurdlebaum – more info at onsug.com or trashcanrock.com
Released August 2021 on The Overnightscape Underground (onsug.com), an Internet talk radio channel focusing on a freeform monologue style, with diverse and fascinating hosts.