Podcast: Play in new window | Download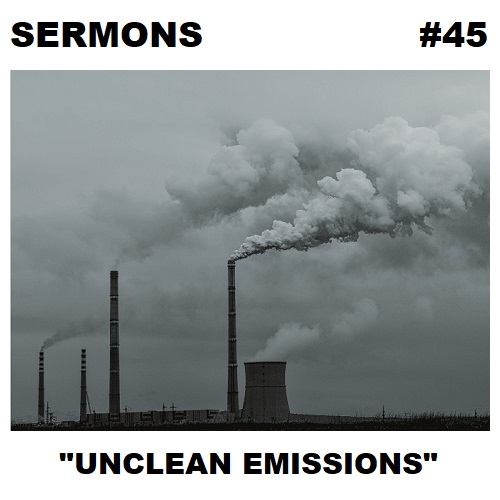 30:29 – After offering a few public health tips about dealing with the clothes and houses of recovered lepers, Dave in Kentucky gets down to the nitty-gritty of the various unclean emissions, nocturnal and otherwise, of us carbon-based life forms. Take a deep dive into the subject matter, but try not to get any on you.
Show art: Carbon Emissions, a photograph by Emma Harris, circa 2019, Public Domain Dedication.
Theme music: "O Thou Who Camest from Above" (words 1762, music 1872) by Charles Wesley (1707-1788) and Samuel Sebastian Wesley (1810-1876), Public Domain, performed by Dave in Kentucky (2023), Public Domain Dedication.
This show is licensed under a Creative Commons Attribution-NonCommercial-NoDerivs 3.0 Unported License. Attribution: by Dave in Kentucky – more info at onsug.com and sermons.blog.
This episode, along with all other episodes of SERMONS, is also available at sermons.blog.