Podcast: Play in new window | Download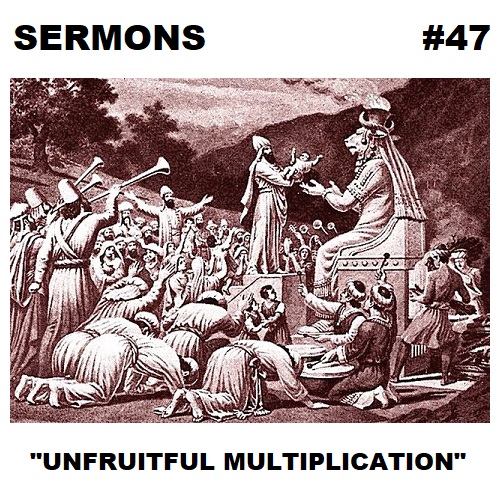 29:36 – What do child sacrifice, man-on-man sex and bestiality have in common, and why are they not to be recommended? Dave in Kentucky provides the Yahwelian perspective and motivation. Also: why Canaan was not for the Canaanites, how to avoid food poisoning without understanding it, practical jokes to play on the deaf and the blind, and the punishments for various infractions. Spoiler alert: the death penalty is a very popular punishment.
Show art: Artist's view of a sacrifice to Moloch, from Bible Pictures and What They Teach Us (1897) by Charles Foster, Public Domain.
Theme music: "O Thou Who Camest from Above" (words 1762, music 1872) by Charles Wesley (1707-1788) and Samuel Sebastian Wesley (1810-1876), Public Domain, performed by Dave in Kentucky (2023), Public Domain Dedication.
This show is licensed under a Creative Commons Attribution-NonCommercial-NoDerivs 3.0 Unported License. Attribution: by Dave in Kentucky – more info at onsug.com and sermons.blog.
This episode, along with all other episodes of SERMONS, is also available at sermons.blog.