Podcast: Play in new window | Download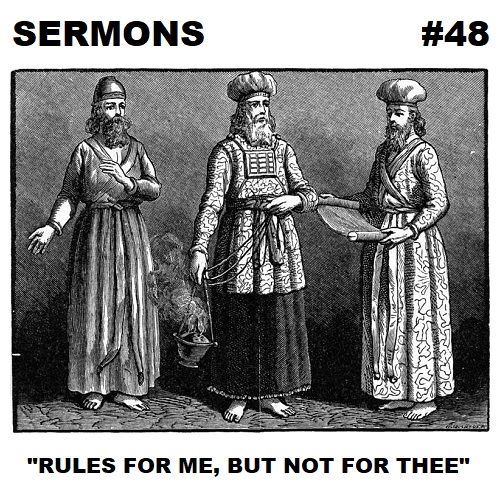 30:25 – In this, the penultimate Levitical episode, Dave in Kentucky discusses the rules that applied only to the priests. Why were hunchback priests, midget priests, and priests with flat noses barred from serving in the Holy of Holies? What flaws in food or service would prompt a Yahwelian diner to send back a meal, complain to the chef, and call the manager to the table? Also: feast days and how to properly observe them.
Show art: "Priests of the Tabernacle" from Bible Pictures and What They Teach Us (1897) by Charles Foster, Public Domain.
Theme music: "O Thou Who Camest from Above" (words 1762, music 1872) by Charles Wesley (1707-1788) and Samuel Sebastian Wesley (1810-1876), Public Domain, performed by Dave in Kentucky (2023), Public Domain Dedication.
This show is licensed under a Creative Commons Attribution-NonCommercial-NoDerivs 3.0 Unported License. Attribution: by Dave in Kentucky – more info at onsug.com and sermons.blog.
This episode, along with all other episodes of SERMONS, is also available at sermons.blog.