Podcast: Play in new window | Download
Fusebox 226: "Art House of Pancakes"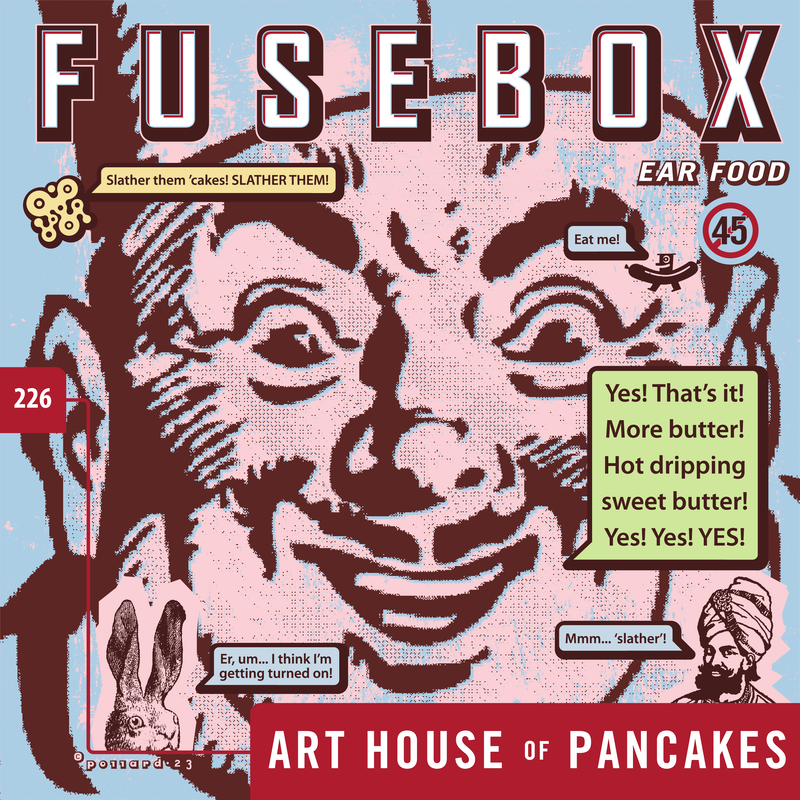 32:07 – PRE ROLL: "Look Into My Eyes" With Iko and Milo And 42nd Street Pete, Plaid Flavor, It's No Secret At All, The Secret Word Is Lanyard, The Stinkfoot Orchestra, Fusebox Liner ID, Meanwhile, While Standing In Line, Napoleon Murphy Brock And Nick Chargin, Clips From Stinkfoot Orchestra April Performance At The Fox Club, Redwood City, CA, Fusebox Liner ID, The Fusebox Interview: 42nd Street Pete Part 2, NYC Liquidators, The Alternative Cinema Connection, Grindhouse Resurrection Magazine, POST ROLL: " Finger Licking' Good?"
Non-existential thanks and a side of bacon to our contributors on this edition of the show; Aimee Binford and Gregory Wilson for vocal flavorings.
An extra special slathering of gratitude to 42nd Street Pete for sharing the time space continuum with us.
Yes, and but also, Billy The Mountain size thanks to Nick Chargin and Shota Otaguru, of The Stinkfoot Orchestra for clips and info and carrying the big note.
Stinkfoot Orchestra Events!
To Grab A Copy Of "Grindhouse Resurrection Magazine"
And remember to visit the Fusebox Store for updates, thoughts, comments, fears, regrets, and genuine Fusebox Swag: TheFuseboxShow.com
Follow us on INSTAGRAM
Visit the Fusebox YouTube Channel too!
Hear us on the radio!
KXRW / KXRY First Wednesday of the month at 12:30 PT Now Also Heard Sundays at 11:30!
KMWV Sundays at 6:30 PM
Fusebox is produced by Marc Rose, Milt Kanes, Jeff Pollard, and Regina Carol,
Music and Post Production by Marc Rose, and Fuse.
Fusebox cover art by POLLARDdesign.
Attribution by Marc Rose.
This work is licensed under a Creative Commons Attribution-Non-Commercial-NoDerivs 3.0 United States License.
Released June 28th , 2023
©2023 Fusebox. All rights reserved (except those granted by the Creative Commons license)