Podcast: Play in new window | Download
Fusebox 228: "A.I A.I Oh No!"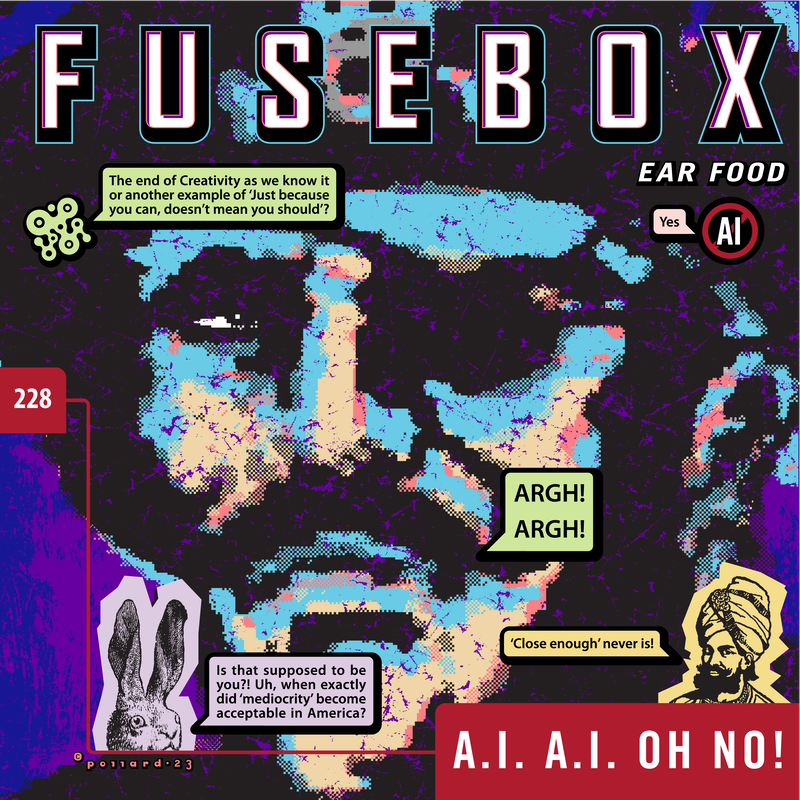 31:20 – Am I Real Or Am I Memorex? Legacy Wet-Ware, Good To Be Here, Make It Look Like An Accident? A Bunch Of Things Are Heating Up, Fusebox Liner ID, AI Sandbox Time, Google Crime Accusation, Fusebox Twiddles In There Too, Eleven Labs.io, A Looming Threat? A Lenny Bruce Experiment, More Trouble Coming' Every Day, Economic Impacts, Silver Lining? Steam Punk AI, "Deconstructing Dad" Documentary, Adobe Gets Involved, The AI Actor, "The Congress" (2013), The AI Proposal, Twisted Epiphanies: "Curse of Dork-A-Thon" Written And Narrated by Joe Medina, Show Close.
Non-virtual thanks to our contributors on this edition of the show; Kenzie Main for stellar ID pronouncements. Joe Medina for a wonderfully poignant spoken word piece.
Yes, and but also, check out the Raymond Scott documentary right here. And "The Congress" is in session here.
And remember to visit the Fusebox Store for updates, thoughts, comments, fears, regrets, and genuine Fusebox Swag: TheFuseboxShow.com
Follow us on INSTAGRAM
Visit the Fusebox YouTube Channel too!
Hear us on the radio!
KXRW / KXRY First Wednesday of the month at 12:30 PT Now Also Heard Sundays at 11:30!
KMWV Sundays at 6:30 PM
Fusebox is produced by Marc Rose, Milt Kanes, Jeff Pollard, and Regina Carol,
Music and Post Production by Marc Rose, and Fuse.
Fusebox cover art by POLLARDdesign.
Attribution by Marc Rose.
This work is licensed under a Creative Commons Attribution-Non-Commercial-NoDerivs 3.0 United States License.
Released July 26th, 2023
©2023 Fusebox. All rights reserved (except those granted by the Creative Commons license)