Podcast: Play in new window | Download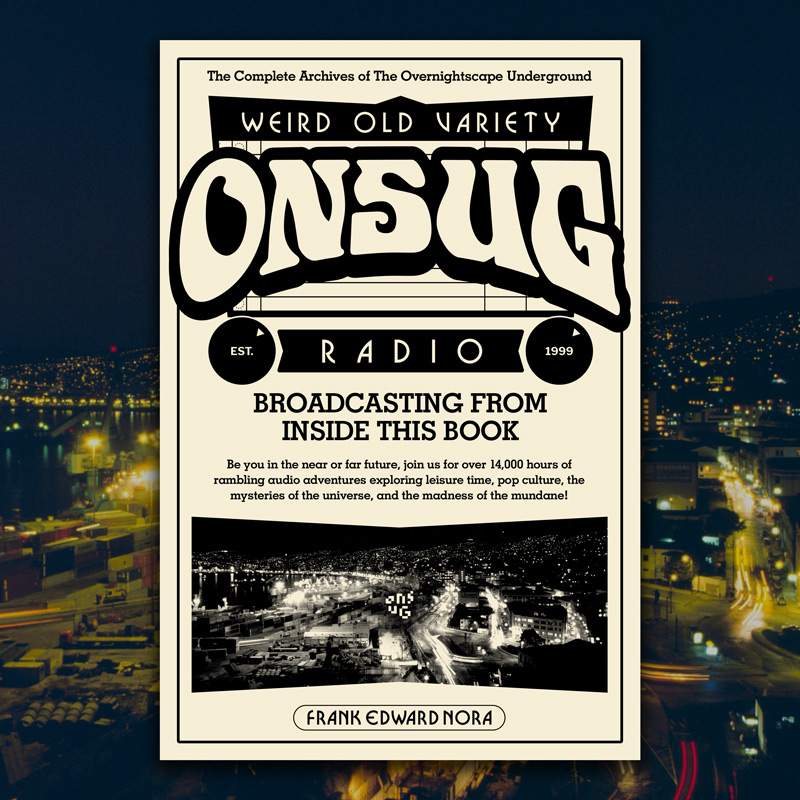 3:57:07 – Onsug Radio is a growing collection of over 14,000 hours of audio shows, meant to be preserved into the far future in the form of a book. For anyone who encounters this book, the first thing they will hear is a top-level "broadcast" which plays clips from the entire archive, with a host providing commentary.
To create this broadcast, I split the archive into 209-second (3:29) clips – 228,150 at the time of this writing. My original thought was to randomize them, but then curate from the random clips. However, as this test shows, a purely random stream of these clips actually sounds great – no curation needed.
This then is 70 random clips, with no hosting, as a test of concept. I was very pleased with how this sounds. The next step will be to incorporate host commentary.
License for this track: Creative Commons Attribution-NonCommercial-NoDerivatives 4.0 International (CC BY-NC-ND 4.0) (https://creativecommons.org/licenses/by-nc-nd/4.0/). Attribution: by Frank Edward Nora – more info at onsug.com
Clip list:
Quaquaversal Satellite – Bushel of Apples (12/29/17) – 15/20
The Overnightscape 1018: Soup Hassles (10/30/13) – 03/32
Rubénerd Show 370: The Canberra episode (9/26/17) – 5/6
The Overnightscape 1041: Phase of the Wizard Bird (1/17/14) – 11/35
Rubénerd Show 332: The gap episode (3/22/16) – 07/10
Would (12/23/11) (Frank) – 087/174
The Overnightscape 1324: Stone (9/26/16) – 01/39
Quaquaversal Satellite – Nervy (8/6/20) – 03/10
Overnightscape Central – Best Toy – (12/20/10) – 06/17
The Midnight Citizen 219: "Trapped in Alabama" (6/28/20) – 36/39
The Overnightscape 1612: Gentle Souls Delighting in the Novel and Strange (7/2/19) – 23/49
Morning Commute (with Bob) #59 – Food for Thought (10/26/10) – 06/14
The Exit Ramp #44 – Shunpike Siesta (4/28/23) – 68/71
Overnightscape Central – Podcasts 2020 (9/2/20) – 02/32
087 Fine Fine Fine by The Mentalettes – 1/1
The Overnightscape Grand Shuffle (12/2/12) – 59/60
Tape Land 105 – On Noyage 7 (3/23/90) – 04/28
The Rampler #305 (5/29/09) 12.32 – 28/56
Tape Land 146 – TV Train Window (circa 1987) – 05/12
three nines episode 10 (3/7/14) – 49/62
The Overnightscape 1850 – Subdued Strolls (10/12/21) – 41/46
The Overnightscape 1841 – The Name of the Game (9/9/21) – 25/59
Prepcast: Episode 1 (2/23/11) – 6/6
The Overnightscape 1139: PATT (12/19/14) – 13/29
Morning Commute (with Bob) #25 – "Local Only" (3/2/10) 26.3 – 05/11
Would (12/23/11) (Frank) – 130/174
The Overnightscape 1396: Maze Comfort (6/6/17) – 03/46
Overnightscape Central – Technology (5/25/22) – 31/34
Quaquaversal Satellite – Middle Toe (6/12/21) – 01/20
Success Odyssey – Ep. 5: Mentor Sessions: Vision Boards (4/13/12) – 11/15
Overnightscape Central – Beatles Yellow Submarine + (4/23/23) – 20/32
Meanderer (6/24/21) – 08/82
Overnightscape Central -Hotel Motel – (6/13/11) – 10/14
The Overnightscape 1692 – Taupe (4/7/20) – 60/61
The Overnightscape 1164: Darkened Lounge With Vending Machine (3/18/15) – 22/27
threenines (6/18/15) – 110/131
The Overnightscape 1622 – A Lot Not To Worry About (8/6/19) – 24/47
Overnightscape Central – Abstract Novel II (11/26/12) – 01/15
New Midnight Cassette 12 – DirtyDnB (2012) – 13/27
The Shambleshow #53: Curb Jump (7/18/12) – 25/28
Highway 209 Massachusetts – 56/58
ug: Month in Review – December 2022 (1/13/23) – 33/52
The Meanderer (6/21/22) – 334/356
Three Nines (1/15/16) – 32/43
The Midnight Citizen 127 — "Shadow States" (7/11/15) – 03/30
Conspiracast Episode 21 (6/27/08) – 15/18
The Overnightscape 1096: Tinsel Burrow (7/23/14) – 22/45
Pop Culture qd – Boom Biddy (6/2/13) – 12/12
The Meanderer (4/23/21) – 022/194
Highway 209 Montana – 30/59
Quaquaversal Satellite – Revolver (1/25/18) – 10/12
The Overnightscape 2020 – Brumes of Canada (6/8/23) – 12/38
The Overnightscape 2017 – VHS: Obliviana (5/30/23) – 35/43
OVERNIGHTSCAPE CENTRAL [ 345 ] – Frank Zappa (7/10/17) – 38/47
The Vic and Sadecast 003 – Twentysixler (1/29/16) – 04/21
BUG OUT – Massive Missive (7/22/12) – 20/49
Overnightscape Central – Abstract Novel III (1/21/13) – 06/12
The Closet Excavationist #8 – Monkey Business (8/1/19) – 04/17
The Overnightscape 1698 – Multimedia Renegades (4/28/20) – 43/67
The Overnightscape 1845 – Over of Never (9/23/21) – 48/48
05-33 The Missing Flea Market / Goodbye Evil Arcade – Part 2 (7/27/08) – 21/37
Pop Culture qd – Tick Zone (6/7/13) – 09/10
The Paunch Stevenson Show – Episode 223 (8/24/13) – 03/13
The Overnightscape #216 (6/13/05) – 3/9
Overnightscape Central – Ric Flair – (3/14/11) – 05/13
Highway 209 Alabama – 59/68
The Meanderer 40: The Misery Company (5/18/15) – 46/56
Highway 209 Nebraska – 10/58
OVERNIGHTSCAPE CENTRAL [ 332 ] – Vic and Sade (4/10/17) – 58/66
Sneaky TT Tonight (September 2014) – 431/536