Podcast: Play in new window | Download
Fusebox 236: "GLLMM-GATE"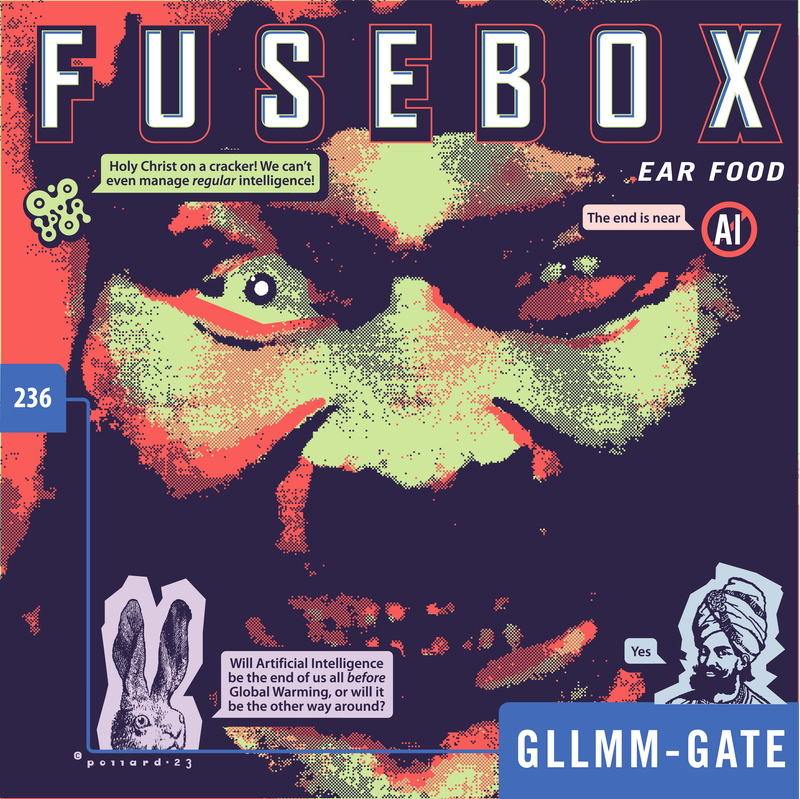 29:26 – PRE ROLL: The 50 Percent Threat, So, Golem Then, Eh? Learning German Through Music Podcast Guest Experience, Liner Break, Grindhouse Resurrection Spot 3, Fusebox Liner ID, Tragic Journals 05: "The Chewing", The AI Dilemma, An AI Parable, First Contact, The Fine Art Of Engagement, Why AI Develops So Fast, AI And The Theory Of Mind, AI Stumps It's Creators…Again, This Is The Year That Authentication – Fails, What Are The Consequences, Some Solutions, A Few Other Solutions, Show Close.
Non-AI prompted thanks to our contributors on this edition of the show; Dre O'Brien for effusively wondrous ID pronouncements. Thanks to Asa Raskin and Tristan Harris for clips of their "AI Dilemma" talk. Do check it out friends.
Thanks as well to "Paisley" for inviting me on the Learning German Through Music podcast. Great fun!
Hugely big thanks to Grindhouse Resurrection Magazine for sponsoring the shenanigan's going on around here. Check them out on their Facebook Page Too!
And remember to visit the Fusebox Store for updates, thoughts, comments, fears, regrets, and genuine Fusebox Swag: TheFuseboxShow.com
Follow us on INSTAGRAM
Visit the Fusebox YouTube Channel too!
Hear us on the radio!
KXRW / KXRY Now heard on the Third Thursday of the month at 1:30 PT Now Also Heard Sundays at 11:30!
KMWV Sundays at 6:30 PM
Fusebox is produced by Marc Rose, Milt Kanes, Jeff Pollard, and Regina Carol,
Music and Post Production by Marc Rose, and Fuse.
Fusebox cover art by POLLARDdesign.
Attribution by Marc Rose.
This work is licensed under a Creative Commons Attribution-Non-Commercial-NoDerivs 3.0 United States License.
Released November 15th, 2023
©2023 Fusebox. All rights reserved (except those granted by the Creative Commons license)