Podcast: Play in new window | Download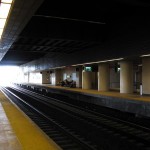 36:40 – A rampling morning commute with Brian on an early morning following a rough rain storm. Topics include walking through Third Ward Park to the Passaic train station, working at Kaplan as a proctor, the world spinning backwards, musical Target gift card, Secaucus Junction, no trains to NYC, missing the Long Branch train, Willow Smith's "I Whip My Hair," Richard Cheese, Jimmy Fallon (as Neal Young) and Bruce Springsteen, "Good Morning" alarm on my new cell phone, no 6:00 train to South Amboy, catching up on podcasts, such as Exposed with Kay & Abi, Big Kev's Geek Stuff, The Paranormal View with Geoffrey "Badger" Gould, not posting links anymore – you can look anything up on Google & other search engines, first day since December 26, 2010 without snow on the ground in Northeastern New Jersey, losing my old phone, Amtrak Acela Business Class train, at the mercy of NJ Transit, prepping the day before, Pulp Comics with Jim Breuer, another Amtrak train – Not Brian's Train, flooding in New Jersey, earthquake in Japan, tsunamis in the Pacific Rim, 6:10 Trenton-bound train arrived 9 minutes later, stories with happy endings, 30th anniversary of Morris Goodman's plane crash, completed 5th draft of the script, check out ONSUG.com & Overnightscape Central, Ric Flair.
Theme music: "The Chasing Game" by Friday's Child.
This work is licensed under a Creative Commons Attribution-NonCommercial-NoDerivs 3.0 International License.
Attribution: by Brian Jude – more info at
onsug.com
Released March 2011 on The Overnightscape Underground (
onsug.com
), an Internet talk radio channel focusing on a freeform monologue style, with diverse and fascinating hosts.