Podcast: Play in new window | Download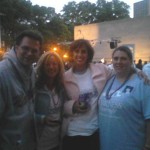 1:05:12 – After several months of promoting this event, listen along as my friends Kati, Lynda, Tammy and I – and about 2,000 others – walk for 18 miles from Cadman Plaza in Brooklyn, up the Brooklyn Promenade, over the Brooklyn Bridge, past Ground Zero, around the tip of Manhattan, through Battery Park City, up the Hudson River, over to Sixth Avenue, down Broadway, then back over the Brooklyn Bridge to Cadman Plaza as we raise both money and awareness for the American Foundation for Suicide Prevention! Discussion topics include Mariel Hemingway in the Opening Ceremony, Kati's brother Michael and my step-brother Allan, my grandfather's death and what it still means to me today, the recent passing of Dr. Jack Kevorkian, is suicide ever justified, suicide and older men, Blue Marble Ice Cream, the film The Jonestown Defense, talking with a man whose 22 year old son took his life in February, I left stuff in the car, The Freedom Tower and the 9/11 Memorial, passing by the mile markers and questioning the accuracy of their placement, the Staten Island Ferry, I used to work at 17 State Street with Frank Nora's sister-in-Law Carrie Ann Carol, the film Keeping the Faith, midnight snack at Pier 96, promoting the film In Montauk by Kim Cummings and the band HOT BREAKFAST featuring Jill Knapp and Matt Casarino, talking to street people, caffeine makes you dehydrated, reading the list of names of those who have sponsored my walk, luminarias, closing ceremony.
MAKE A DONATION FOR THE OUT OF THE DARKNESS OVERNIGHT WALK AT: http://theovernight.org Click the "Donate Now" button and do a search for Tammy O'Brien – she can use the help. Thanks!
Theme music: "The Chasing Game" by Friday's Child.
This work is licensed under a Creative Commons Attribution-NonCommercial-NoDerivs 3.0 International License.
Attribution: by Brian Jude – more info at
onsug.com
Released June 2011 on The Overnightscape Underground (
onsug.com
), an Internet talk radio channel focusing on a freeform monologue style, with diverse and fascinating hosts.