Podcast: Play in new window | Download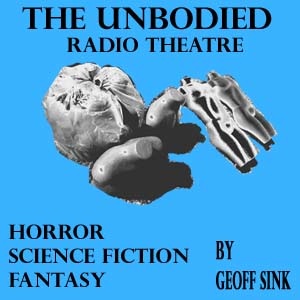 13:31 – The latest show, Drawn Back Again Part One, is a continuation of a series of stories written in 2009. To listen to the previous episodes in this series, go to www.theunbodied.com.
It's one year after Megan's strange and, at times, dangerous mission to find Rachel's missing friends. Strange because in the course of pursuit she got lost in shape-shifting houses and met people capable of making unusual things happen. Dangerous because Smith, the thing who kidnapped the friends, didn't want to be bothered and had a funny way of torturing people just with his gaze.
In that year's time Megan has been avoiding all things strange, and that includes thinking about what happened and speaking to Rachel. But, an arbitrary decision one evening forces it all back into her memory. What happens next? Listen and find out!
email me: geoff(at)theunbodied.com

The Unbodied: 60/40, Part 3 by Geoff Sink is licensed under a Creative Commons Attribution-NonCommercial-NoDerivs 3.0 Unported License.
Permissions beyond the scope of this license may be available at www.theunbodied.com
Released March 2011 on The Overnightscape Underground (onsug.com), an Internet talk radio channel focusing on a freeform monologue style, with diverse and fascinating hosts.