Podcast: Play in new window | Download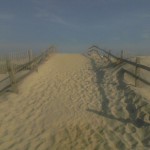 31:42 – Recorded June 18 & 26, 2011.
It's been a while – been keeping really busy between taking care of my wife, who is currently on bed rest, the boy, who just finished Kindergarten, a busy work schedule, "The Miracle Man" progress and other projects. I didn't even have time to do post production until a few days after recording this…
In this episode, I take you along on two interesting gigs – first a long bus ride up to Lake George, NY – a great resort town where I march in a huge Fireman's convention parade with the Tappan Zee Bridgemen, then a long drive south to Wildwood, NJ where I officiated a wedding. Topics include multiple units of the band, Six Flags Great Escape, marginal placenta previa, changing the baby's "due" date, Jacob Celebrity Fashion Show and the Boys & Girl's Club, camping in Wildwood in 1989, had a video gig in Queens, drove through 4 out of the 5 boroughs of New York City, scouting the beach, Ontario license plates in Wildwood, enormous Ferris wheel, The Skyscraper, don't go to Seaside, finding a fenced pathway up a sand dune, Jacob's iPod Touch takes better pictures than my phone, waiting to hear back from a famous actor for "The Miracle Man," putting investment documents together, a brief review of the latest CD from "Weird Al" Yankovic, "Alpocalypse," I may start a new regularly published podcast on the Law of Attraction.
Theme music: "The Chasing Game" by Friday's Child.
This work is licensed under a Creative Commons Attribution-NonCommercial-NoDerivs 3.0 International License.
Attribution: by Brian Jude – more info at
onsug.com
Released June 2011 on The Overnightscape Underground (
onsug.com
), an Internet talk radio channel focusing on a freeform monologue style, with diverse and fascinating hosts.