Podcast: Play in new window | Download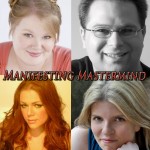 1:09:17 – Jen, Brian, Alicia & Kay return to Legends Diner in Secaucus, NJ, along with our resident mime Melissa (a.k.a. Harpo), and introducing newcomer Matt Wilder to the show! (Looks like we're going to have to update our image to include his headshot!)
In our longest episode to date, this week we talk about the "miracles" we manifested, "Work Weeks" versus "Passion Weeks," being "on time, all the time," the Law of Attraction and kids, doing things with intention, more on the Namaste principle, letting go and allowing the universe to manifest itself to you, and thoughts and feelings and their impact on actions.
Plug of the Week: Check out life coach Sue Waldman – http://suewaldman.com
Come see Kay in Stephen Sondheim's "Assassins" at The Barn Theatre in Montville, NJ. May 18, 26, June 1, 2, 8, 9 at 8pm
May 19, 20, 27, June 3 at 2pm
Do you have a restaurant or establishment that you'd like us to promote? Contact us!
Want us to help meditate on your goals & dreams? Leave a comment below, or e-mail us at manifestingmastermind@gmail.com!
Follow us on Twitter at http://twitter.com/ManifestingMM
"Like" us on Facebook at http://www.facebook.com/pages/Manifesting-Mastermind/152916034831504 (permanent link forthcoming)
Thanks to http://www.purple-planet.com for supplying our theme music!
This work is licensed under a Creative Commons Attribution-NonCommercial-NoDerivs 3.0 International License.
Attribution: by Brian Jude – more info at onsug.com
Released April 2012 on The Overnightscape Underground (onsug.com), an Internet talk radio channel focusing on a freeform monologue style, with diverse and fascinating hosts.