Podcast: Play in new window | Download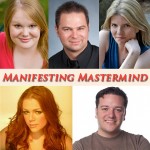 58:93 -Â Jen, Brian, Alicia, Kay, Matt & Melissa return to Chit Chat Diner in Hackensack, NJ. Kay and Jen are manifesting muppets galore and much more! Alicia, Brian and Matt have been experiencing a mixture of blessings and apparent challenges and have been looking for the lessons within them.
As Melissa brought up a few weeks ago, Dr. Masaru Emoto conducted experiments with frozen water crystals and positive and negative words. (See link for video below.) If written words can do this to water, what do our positive and negative thoughts to do us? If you're experiencing too many challenges in a situation, do you need to remove yourself from that situation? Do you need to experience the same challenges over and over again like in the movie "Groundhog Day" in order to learn a lesson? Can you keep your own energy when confronted with a seemingly negative person? How do you react to a negative situation in a positive way and move forward? What is the distinction between feeling negative emotions and expressing negative emotions?
Tips of the Week: Live in your truth. Ask the right questions to the right people when you are in need. Ask G-d/The Universe questions, and be still and listen for the answers.
Check out this AMAZING video – Water, Consciousness & Intent: Dr. Masaru Emoto:
http://www.youtube.com/watch?v=tAvzsjcBtx8&feature=youtube_gdata_player
For more on Dr. Emoto, go to http://masaru-emoto.net
Subscribe to Mike Dooley's Notes from the Universe: http://tut.com
WE ARE CREATING A CHILDREN'S TELEVISION SHOW! Using our talents for acting, music, and film/video production, and combined with passion for all things positive as well as puppetry, we have been planning a "secret" project designed to teach positive thinking, visualization, and other Law of Attraction techniques to kids! Perhaps as a pilot to pitch to a television network, or as a stand-alone DVD… we're not quite sure yet, but we are planning this now! YOU CAN HELP MAKE THIS HAPPEN! Brian's company Dragon Rider Productions has been entered into Chase's Mission: Small Business program for a chance to win a $250K grant which will help fund this new project, as well as Brian's film The Miracle Man! If you are a Facebook user, you can go to http://missionsmallbusiness.com, log in with Facebook, and in the Business Name box enter Dragon Rider Productions! Help manifest a positive future by helping us, and please pass it on! THANK YOU!!!
Come see Kay in Stephen Sondheim's "Assassins" at The Barn Theatre in Montville, NJ. June 8, 9 at 8pm
Do you have a restaurant or establishment that you'd like us to promote? Contact us!
Want us to help meditate on your goals & dreams? Leave a comment below, or e-mail us at manifestingmastermind@gmail.com!
Follow us on Twitter at http://twitter.com/ManifestingMM
"Like" us on Facebook at http://www.facebook.com/manifestingmastermind
Thanks to http://www.purple-planet.com for supplying our theme music!
This work is licensed under a Creative Commons Attribution-NonCommercial-NoDerivs 3.0 International License.
Attribution: by Brian Jude – more info at onsug.com
Released June 2012 on The Overnightscape Underground (onsug.com), an Internet talk radio channel focusing on a freeform monologue style, with diverse and fascinating hosts.