Podcast: Play in new window | Download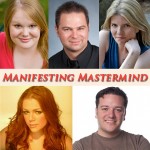 Hosts: Jen Ponton, Brian Jude, Kay Koch, Alicia Angel, Matt Wilder & Melissa
47:43 – Kay, Alicia, Matt & Melissa once again join Brian in his living room. (Jen bought a one-way ticket to L.A. and is making magic happen for her! We hope she will Skype in for an episode soon if she stays out there longer!)
Kay is finally out of her old apartment and is working the puppety connections. Matt's gigs are going well and keeping him busy as he sets his sights on living in NYC. Brian has been busy preparing for David's first birthday, while making some significant moves in casting for  The Miracle Man. The Alicia Angel "Tour" is going well, as she enjoyed a recording session for one of the songs she wrote for Dora the Explorer and is getting ready for a retreat to Idaho next week with the great Brandie Hinen.
Tip of the week: The great Dr. Joe Vitale, among many things, teaches the practice of Ho'oponopono, a Hawaiian practice of "clearing and cleaning" through reconciliation and forgiveness by uttering the mantra, "I'm sorry. Please forgive me. Thank you. I love you." or any variation thereof. The concept behind it is that we are responsible for everything that shows up in our lives, including negative situations and negative people, and when they do show up, we need to heal the part of ourselves that attracted the negative people and situations.
Suggested Reading:
"The Go-Giver" by Bob Burg and John David Mann
"Mind, Time & Power" by Anthony Hamilton
"Produced by Faith" by DeVon Franklin
"The Art of Manifesting: Creating Your Future" by Carole Lee Dean
Check out Matt on "Flash Game" – coming soon to http://HooplaHa.com!
FREE COPY OF "THE ART OF MANIFESTING" & "THE ART OF FILM FUNDING" BY CAROLE LEE DEAN! FIRST COME, FIRST SERVE! Just ask, believe & receive!
Want us to help meditate on your goals & dreams? Leave a comment below, or e-mail us at manifestingmastermind@gmail.com!
Follow us on Twitter at http://twitter.com/ManifestingMM
"Like" us on Facebook at http://www.facebook.com/manifestingmastermind
Thanks to http://www.purple-planet.com for supplying our theme music!
This work is licensed under a Creative Commons Attribution-NonCommercial-NoDerivs 3.0 International License.
Attribution: by Brian Jude – more info at onsug.com
Released July 2012 on The Overnightscape Underground (onsug.com), an Internet talk radio channel focusing on a freeform monologue style, with diverse and fascinating hosts.