Podcast: Play in new window | Download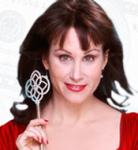 52:12 - Morgana Rae is an internationally acclaimed life coach, author, and professional speaker who inspires her clients to change their relationship with money. Dubbed the "Money Magic Queen," Morgana has been a featured expert alongside Deepak Chopra, Marianne Williamson, John Gray, John Assaraf and T Harv Eker, and her books, cds, magazine articles and classes have impacted the lives of thousands of people worldwide. Today she talks about her new book, Financial Alchemy – Twelve Months of Magic and Manifestation, and her upcoming 3-Day Telesummit "Money, Love & Magic!" which will be held January 15 thru the 17th, 2013.
Here's Morgana's  six steps to improving your relationship with money:
1. Identify the root cause of your money (and/or life) problems, pain.
2. Visualize what your "Money Monster" looks like.
3. Get rid of your Money Monster.
4. Meet your "Money Honey."
5. Find out what your Money Honey needs from you.
6. Take concrete, measurable action!
For more information on Morgana Rae, visit http://morganarae.com.
"Like" Morgana's Facebook page at http://www.facebook.com/morganapage.
Follow Morgana on Twitter at @morganarae
Follow this and other great podcasts on the Inspirational Internet Radio Network and The Overnightscape Underground!
E-mail us at successodysseypodcast@gmail.com
Follow us on Twitter! "Like" us on Facebook!
This work is licensed under a Creative Commons Attribution-NonCommercial-NoDerivs 3.0 International License.
Attribution: by Brian Jude – more info at onsug.com
Released January 2013 on The Overnightscape Underground (onsug.com), an Internet talk radio channel focusing on a freeform monologue style, with diverse and fascinating hosts.