Podcast: Play in new window | Download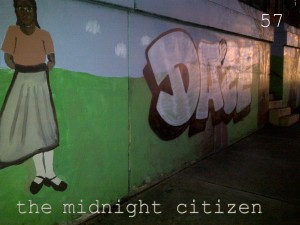 58:20 — The first show in seven months, recorded on a cold, late Saturday night in early January. Thoughts on a hiatus from recording spent in the trenches of student teaching in a public school, finishing grad school, the elusive Birmingham graffiti artist Daze, plus plenty more on this comeback to the microphone.
All music for this episode is under a Creative Commons Share-Alike license: "Slow Burn" by Kevin MacLeod; "Blues Walk", "Lonely Night", "I'm Ready for You", and "Good News" by PERSSON; "Sultan Soul" and "Blues for My Brother" by the Bayou Trio; "Lung Bubbles" by Professor Kliq; "Codeagain" by Need to Run.
This work is licensed under a Creative Commons Attribution-NonCommercial-NoDerivs 3.0 United States License. Attribution by Mike Boody.
Released January 2013, on The Midnight Citizen (midnightcitizen.com).