Podcast: Play in new window | Download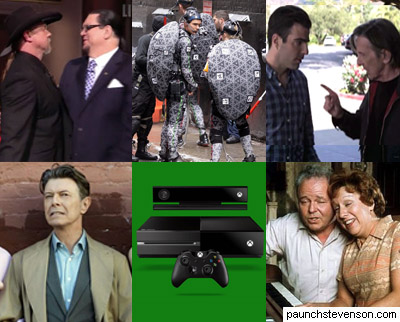 1:28:02 – In this episode:
In this episode:
Rob calls everyone "Living Legend" at Chiller Theatre,
How I Met Your Mother episode guest starring William Zabka and Ralph Macchio,
Celebrity Apprentice finale (Trace Adkins defeats Penn Jillette),
Gary Busey's mechanical dog,
The Office finally comes to an end,
Liberace movie starring Michael Douglas, Matt Damon, Paul Reiser, and Dan Aykroyd,
another post-apocalypse move Elysium (2013) starring Matt Damon,
Steven Seagal is the new ambassador to Russia?,
The Purge (2013) rips off Rob's "everyone gets one free murder concept",
co-workers hate Michael Bay,
Bay's Teenage Mutant Ninja Turtles using the voice actors in motion capture suits,
Leonard Nimoy and Zachary Quinto in Audi car commercial "The Challenge" ,
David Bowie surprises with new album The Next Day,
upcoming CGI Disney Star Wars Rebels (2014) cartoon,
Bernie Stolar, destroyer of 32-bit 2D video games,
the demise of SEGA,
Microsoft unveils the Xbox One,
DRM: Digital Rights Management,
proposed documentary on Atari's New Mexico "E.T." landfill,
what's with all the NJ roadkill?,
our review of Rockshow: Wings Over America (1979/2013), starring Paul McCartney and Denny Laine,
Paul McCartney concert performances,
extremely high Stub Hub prices,
celebrity deaths (Chris Kelly, Ray Manzarek, Jean Stapleton),
somethingstore.com – get shipped mystery packages,
The Breeders reunite for a 20th anniversary tour,
Ashton Kutcher's Steve Jobs movie gets panned,
Funny or Die's iSteve parody biopic starring Justin Long,
SNES game Earthbound fetching huge ebay prices,
Esteban and the 7 Cities of Gold game coming to Wii U,
and Grimaldi's Pizza in Clifton, NJ, has video game consoles to play.
License: Creative Commons Attribution-NonCommercial-NoDerivs 3.0 Unported License (creativecommons.org/licenses/by-nc-nd/3.0/). Attribution: by Rob and Greg – more info at paunchstevenson.com
Released June 2013 on The Overnightscape Underground (onsug.com), an Internet talk radio channel focusing on a freeform monologue style, with diverse and fascinating hosts.