Podcast: Play in new window | Download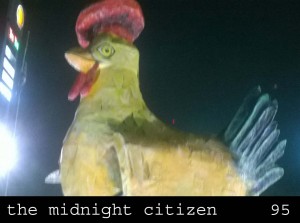 1:16:32 —
Join Mike for a walk through Birmingham, AL on a Saturday night. Topics include: park benches, old and new; work troubles have been resolved amicably; smoking a cigar with a storm coming on; Robert Altman's "The Long Goodbye" and hard-boiled detective archetype; moral compasses; "Citizen Creepfest" short story; "Downtown Drive-In" plans to be revived at the Oak Hill Cemetery in Birmingham; "The Munsters" TV show and how it changed my life through an episode called "Far-Out Munsters"; everything we see that is man-made was once demonstrated; Thomas Edison once electrocuted an elephant; mad at people from the past, and; much more!
This work is licensed under a Creative Commons Attribution-Noncommercial-Share Alike United States License. Attribution by Mike Boody. Released August 2014, on The Overnightscape Underground and
The Midnight Citizen
.