Podcast: Play in new window | Download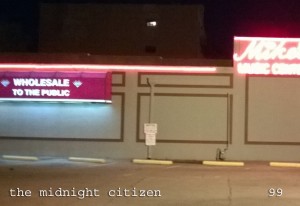 1:20:20 — Join Mike on the streets of Birmingham, AL. Topics include: weird, misplaced sound coming from stone pillar; faux objects; walking between dog sits on a beautiful Fall night; the "naked photographer"; late night coffee from O'Henry's; service jobs; if I were President; the Oscars should be held every four years like the Olympics; Alabama vs. Ole Miss; glad I'm not a football fan; "Inherent Vice" trailer released this week; started my new job; passed a Bocci court tonight; what is Bocci?; finally played Grand Theft Auto Online, and; much more!
Music for this episode by Mister Electric Demon from the album "Around my Cream".
This work is licensed under a Creative Commons Attribution-Noncommercial-Share Alike United States License. Attribution by Mike Boody. Released October 2014, on 
The Overnightscape Underground
and The Midnight Citizen.