Podcast: Play in new window | Download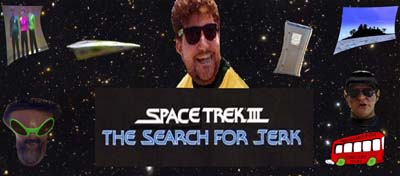 1:08:45 – [Original Earth Transmission Date: October 2012]
The next in our "revisited" series of Space Trek episodes is here (leading up to the forthcoming Part #6)! As we have stated previously, we really strived to make these shows extra special by loading them with all sorts of bonus goodies! So in this 3rd part, we have another stellar new intro (can the rumors be true that it features the BIG MAN himself?)! Also there are hints of a new hidden ending which may further reveal Byron & his Those Guys crew's original high school shenanigans! Of course remixing & remastering this whole thing is just the icing on the cake. Again, we hope you enjoy reliving all the lunacy with us! -—–Byron
A long time ago in a galaxy far, far… (oops… sorry, wrong show). A long time ago at a high school not too far away, Byron & a couple of his friends dreamt up an insane comedy cable access show called Those Guys. This spawned a skit called Space Trek, which has now been revived for an exclusive audio mini-series of episodes here on Gunkcast. Join Byron & a full ensemble cast of talent for the biggest, most action packed (& quite possibly the most lunatic) installment of our Space Trek series yet!
Follow Dr. Leroy Stones M'Boy, Sock, Checkout, Snotty, & the rest of the crew of the Starship Arrow as they continue on their adventure which has guided them through time & space to rescue the missing Captain Jerk. While The Doc (piloting his TARGIT) attempts to hold off the hideous fleet of warships known as the Minions Of J (dispatched by the sinister Double-J Raygun himself), M'Boy & his crew now find themselves stranded on the Island of Impossible Moss as a result of a tiny slight detail they overlooked when they beamed down. But they soon discover they may not be alone on this strange & mysterious island… and the real rollercoaster ride starts here! Trust us, this 3rd part of the series has it all! And if you are wondering just how the U.K. vs. the U.S. shoe size fits into all of this, you'll just have to tune in & hear it for yourselves…cheers!
Also, please share the love and listen to some of our favorite podcasts at—-Static Radio, Special Delivery, Onsug, & Insignificast!
License for this track: Creative Commons Attribution-NonCommercial-NoDerivs 3.0 Unported License (creativecommons.org/licenses/by-nc-nd/3.0/). Attribution: by Byron Duddle – more info at onsug.com or gunkcast.tumblr.com
Released November 2015 on The Overnightscape Underground (onsug.com), an Internet talk radio channel focusing on a freeform monologue style, with diverse and fascinating hosts.