Podcast: Play in new window | Download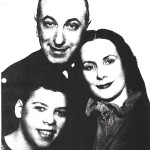 (14:06) PQ Ribber (as Vic) and Jimbo (as Rush) tread lightly as they take on a previously unrecorded "Vic and Sade" script from 1933.
PQ and Jimbo both realize that neither can imitate the actors (Art Van Harvey and Bill Idelson) but hope to capture the spirit in which this play was performed. Throw tomatoes if you must, but no one knows better than these two that Van Harvey and Idelson cannot be captured. Think of this simply as an ode to Paul Rhymer.
Thanks to Marc Rose, who was the announcer.
"Vic and Sade" was created and written by Paul Rhymer. For all your "Vic and Sade" needs, visit The Crazy World of Vic and Sade.
License for this track: Creative Commons Attribution-Noncommercial-No Derivative Works 3.0 United States (http://creativecommons.org/licenses/by-nc-nd/3.0/us/). Attribution: by Jimbo and PQ Ribber – more info at onsug.com