Podcast: Play in new window | Download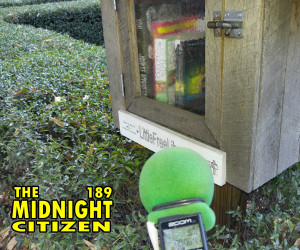 46:34 –Â Mike takes a break from shopping for computers on the Internet to go for a coffee on a cold Fall afternoon. Yep, that's the show.
Download on iTunes and Podbean.
Subscribe to The Midnight Citizen and get an exclusive short film…
Detailed show notes: taking the new debit card to get a coffee; card chips and filling awkward voids with cashiers; found a community library box; strange encounters on the way back from Texas last week (angry campers and weary travelers); Starbucks Christmas cups; Trump's plan from last year to make everyone say "Merry Christmas" again; politics-weary; screen fatigue from shopping online; experiences in earning some extra money to buy a new computer (online user testing and mystery shopping); "getting made" as a mystery shopper at a local restaurant this week; the upcoming irrational of the Christmas season.
This work is licensed under a Creative Commons Attribution Non-commercial Share-Alike US License. Attribution by Mike Boody. Released November 2016 on The Midnight Citizen and The Overnightscape Underground.