Podcast: Play in new window | Download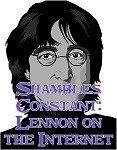 (14:47) Jimbo has a special guest: Shambles Constant. Shambles portrays John Lennon on the Internet.
John Lennon was potrayed by Shambles Constant.
Written and produced by Jimbo.
"Nowhere Man" (Written by Lennon and McCartney) covered by Skytone [YouTube].
This work is licensed under a Creative Commons Attribution-NonCommercial-NoDerivs 3.0 United States License. Attribution: by Jimbo and Shambles Constant.