Podcast: Play in new window | Download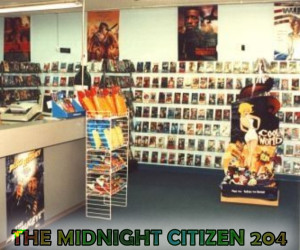 1:29:16 –Â Join Mike in the studio late at night, where he cheapens the Internet Radio platform. Also: a profile of character actor Larry Hankin.
Download on iTunes and Podbean.
Subscribe to The Midnight Citizen and get an exclusive short film…
Show Notes: We need to bring back that hoop with a stick that kids used to play with in the early 20th century; the necrophilia of physical media; the cheapening of film-making; Music Break 1*; the candle business is really tough; St. Patrick's Day; "Night Flight"; 80's stand-up comedy boom; character actor Larry Hankin; Video Street Video Store**; Birmingham, AL mentioned in THE WASHINGTON POST; comeback town hipsters; an Alabama drive-in is in the news for banning "Beauty in the Beast" because of a gay character; Music Break 2*; a mix-up in the Piggly-Wiggly; Brian de Palma; Robert Osbourne.
*Music Breaks: "Hey Rusty" by The Whips; "Forbidden VHS" by Monplaisir;Â "Hot Tone" by The Whips; "Orphan Song" by Waco Brothers.
**Video Street Video Store: "Making of the Monster Plantation" (1981).
Backing music for tonight's episode is the Midnight Cassette System (CCO 1.0 Universal, attribution, non-commercial, share-alike).
This work is licensed under a Creative Commons Attribution Non-commercial Share-Alike US License. Attribution by Mike Boody. Released March 2017 on The Midnight Citizen and The Overnightscape Underground.