Podcast: Play in new window | Download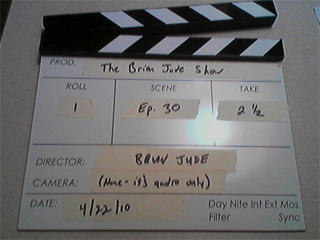 The Brian Jude Show #30 – Take 2 1/2 (4/22/10) 27.50 (34:27 / 39.9 MB)
The Overnightscape Underground – April 2010 – Track 50
"Your Late Night Broadcast" online at onsug.com
Created by Frank Nora (frank@theovernightscape.com) in New Jersey, USA
——————————
Description from brianjudeshow.blogspot.com:
I had recorded an entire episode and part of a second episode last week. But alas, my iPod somehow became corrupted, and I had to talk about here what I talked about then. Sad, because I had some really great stuff! Talked about my involvement in the American Cancer Society's Relay for Life, held last week at Montclair State University, on a team led by Cindi Merklee, plus the screening of a short film I produced, "The Collector's Item," and Q&A with director Bill Clemis. Plus I answer a question from Wayne from Sparetime Radio, and TV's Jorge Garcia (from LOST) answers my question on his podcast, Geronimo Jack's Beard.
Links:
American Cancer Society's Relay for Life (my donation page): http://tinyurl.com/acsr4l
(You can still donate to my Relay for Life team until August, 2010!)
Exit 131 Productions (MySpace): http://myspace.com/exit131film
The Collector's Item (Vimeo): http://vimeo.com/6299313
Unitarian Universalism (Wikipedia): http://en.wikipedia.org/wiki/Unitarian_Universalism
The Unitarian Universalist Association (UUA): http://uua.org
The Unitarian Universalist Congregation at Montclair – http://uumontclair.org
The UU Montclair Podcast – http://uumontclair.blogspot.com
Jorge Garcia (IMDb): http://imdb.com/name/nm0306201
Geronimo Jack's Beard: http://geronimojacksbeard.blogspot.com
——————————
License for this track: Creative Commons Attribution-Noncommercial-No Derivative Works 3.0 United States (http://creativecommons.org/licenses/by-nc-nd/3.0/us/). Attribution: by Brian Jude – more info at brianjudeshow.blogspot.com and onsug.com
——————————