Podcast: Play in new window | Download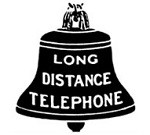 (13:27) A long-distance telephone call to Bess starts off as a great idea but unravels to the point of despair.
Examine this episode more closely: 41-06-01 Uncle Fletcher Telephones Aunt Bess
"Vic and Sade" was written by Paul Rhymer.
A big THANK YOU to Internet audio pioneer Frank Edward Nora and ONSUG for hosting the VIC AND SADECAST.
This work is licensed under a Creative Commons Attribution-NonCommercial-NoDerivs 3.0 United States License.