Podcast: Play in new window | Download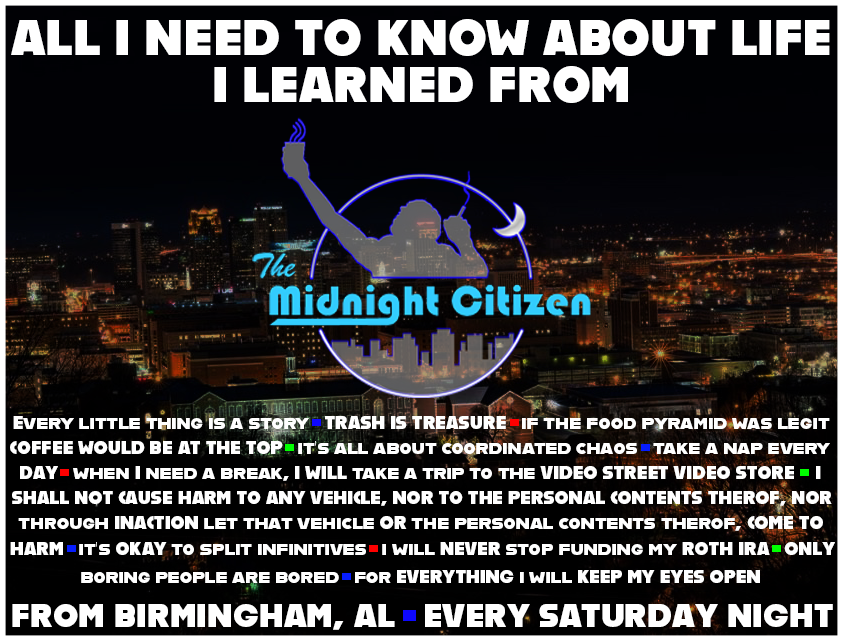 1:31:49 — Join Mike in the studio late on a Saturday night…
…where he wonders if he really learned anything in kindergarten – since life is so tough, and recites a better credo to live life by: the repo code.
Check out the detailed show notes here.
*Music Break: "Bellweather" by Man Woman Child; "Get Me a Job" by the Riptones. All music is played under a Creative Commons License (Attribution, noncommercial, no derivatives) and is available at the Freemusicarchive.org.
Video Street Video Store: AOL Corporate Video (Early 1990's); Jean Shepherd on "Shepherd's Pie" – New Jersey Public Television (c. 1977)
Check out the complete Video Street Video Store playlist here!
Nightcam: Ober Gatlinburg – Gatlinburg, TN
Check out the website over at mikeboody.com/themidnightcitizen, with links to old episodes on Archive.org, and join the Facebook page! …"Never open your mouth until you know what the shot is."
This work is licensed under a Creative Commons Attribution Noncommercial Share-Alike US License. Attribution by Mike Boody. Released February 2022 on The Midnight Citizen and The Overnightscape Underground.