Podcast: Play in new window | Download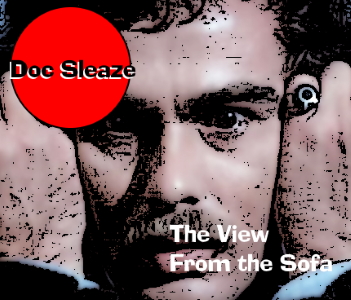 39:20 – Doc Sleaze contemplates the view from his sofa, which includes 'off gridders' who seem always to be 'on grid', approaches to filming H P Lovecraft, Mexican Wrestling movies, the vexed question of whether he is a 'web influencer' and more. Includes:
Web Non-Influencer? ¦ 1980s Leeds Liquid Gold TV Commercial (Featuring George Cole) ¦ On Grid Off Gridders ¦ The Dunwich Horror (1970) Trailer ¦ Forgotten Film: The Dunwich Horror (1970) ¦ Die. Monster, Die! (1965) Trailer ¦ Movie in Brief – Santo and Blue Demon Against the Monsters (1970) ¦ Random Movie Trailer – I, Monster (1970) ¦ Santo and Dracula's Treasure (English Language Trailer) ¦ The View From the Sofa ¦ Samson vs The Vampire Women (1962) Trailer (English dubbed version of Santo vs The Vampire Women)
License for this track: Creative Commons Attribution-NonCommercial-NoDerivs 3.0 Unported License (creativecommons.org/licenses/by-nc-nd/3.0/). Attribution: by Doc Sleaze more info at TheOvernightscape.com
Released Feb 2022 on The Overnightscape Underground (onsug.com), an Internet talk radio channel focusing on a freeform monologue style, with diverse and clever hosts presenting unique programs, historic archival material, and nocturnal audio.