Podcast: Play in new window | Download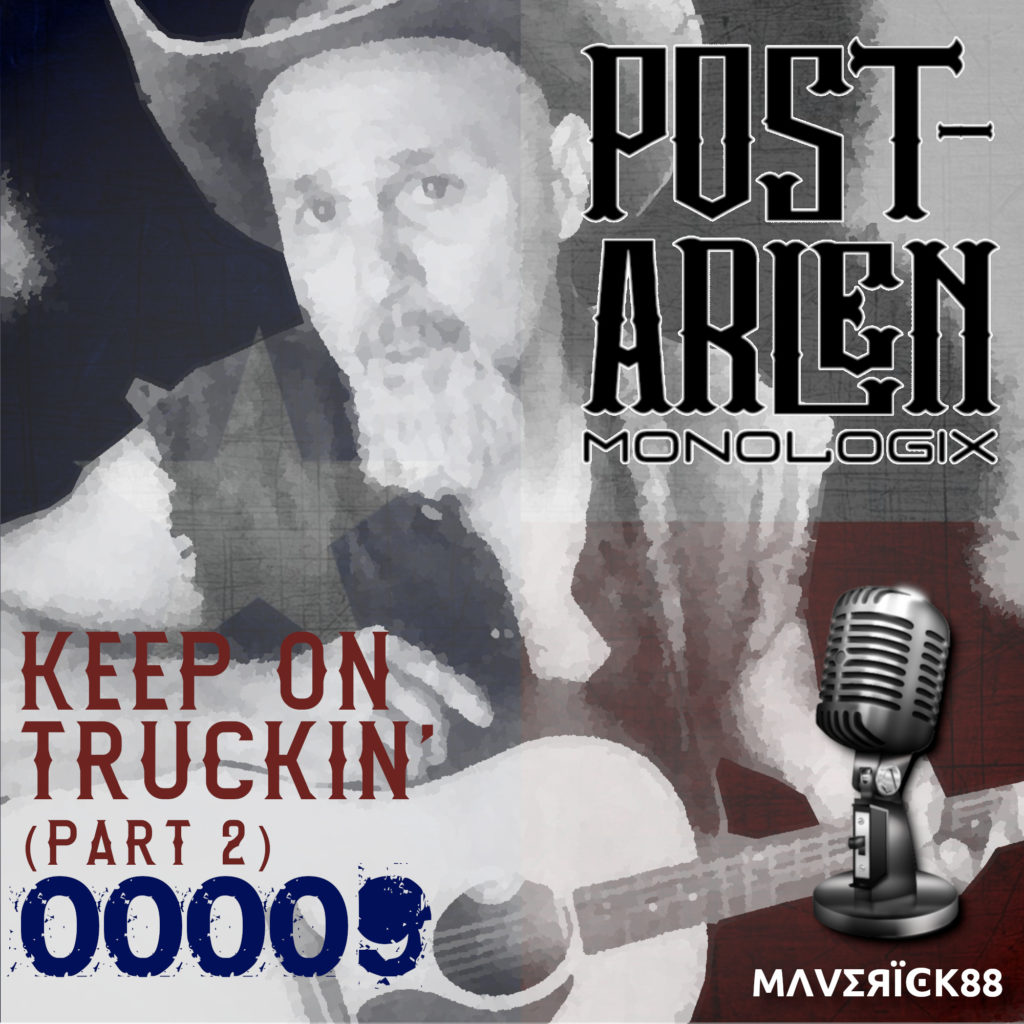 [1:23:12] – SUBJECT MATTER: Background in Transportation. Dumping The Corporate Scene. The Old Gateway Laptop. Truck Driving School. Chickenshit Valley. The Chicken Man Instructor. The Smell of Money. The Redneck Bee Gee. The Colored Bus. The Wet Dog Syndrome. Something In The Food. Driving Academy Diploma. The Budweiser Trailer. Culture Shock. Trucking Inquiries. The Scumbag Trucker. Rhino Hairs. Truck Stops. Tire Checkers. Truck Stop Buffet. The Inner Loser. Backing A Trailer. CB Radio. 70s Trucking Culture. Keep On Truckin' T-Shirts. Jerry Garcia on Rap. CW McCall "Convoy". BJ and The Bear. Smokey and The Bandit. Jerry Reed "East Bound and Down". Corporate Truck Stops. Old Privately-Owned Truck Stops. Interstate 81. Trucker CB Lingo. Lingo as Cultural Distinction. Stressful and Unhealthy Living.
LICENSE FOR THIS TRACK: Creative Commons Attribution-NonCommercial-NoDerivs 3.0 Unported License (creativecommons.org/licenses/by-nc-nd/3.0/). Attribution: by Post-Arlen Monologix / Maverick88. Please refer to WWW.POST-ARLEN.COM for additional information.
ATTRIBUTIONS: "Yee-Haw" sound clip (102437__shawshank73__scottstoked-yeehaw.wav) by shawshank73 (https://freesound.org/people/shawshank73/). "Sad Piano" sound clip (416057__psovod__sad-ending-piano-1.mp3) by PSOVOD (https://freesound.org/people/PSOVOD/). The songs "Maverick88" and "ReverendMotherForklift" used with permission.