Podcast: Play in new window | Download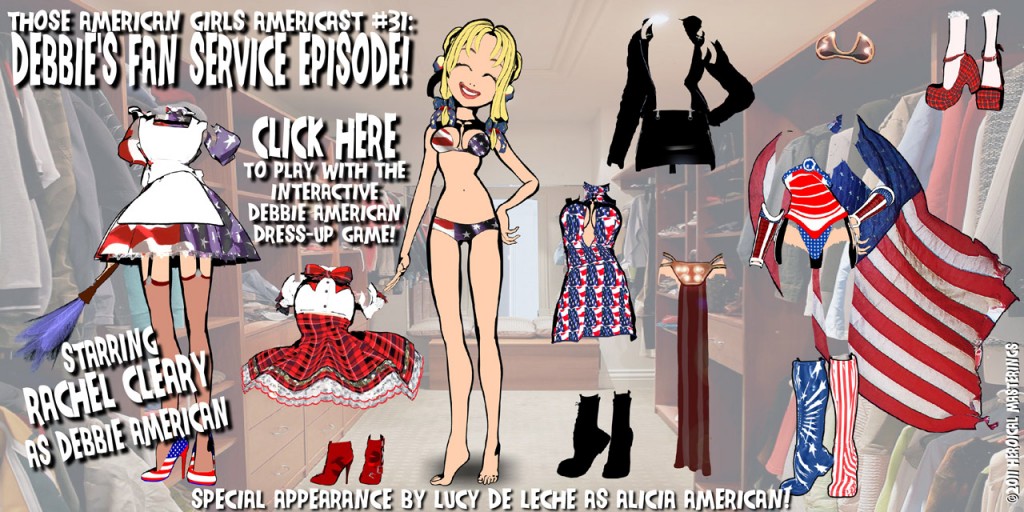 4:51 – OMG lovers!  I like completely needed sum like time off, so my sister Deb like totally stepped up & like delivered this week, as I knew she wuld!❤❤ Now u understand Y I like luv her so freaking much yo! Check it out– she answers fan raquests in tha audio above left,
then u can also click on tha like picture and go play with tha Debbie American Dressup Doll Kit!!❤ evan "Slave Leia!"
All costumes specially requested by Debbie's #1 fan, Checker Phil Dejean from tha Checkerboard Kids Television Program Yay!❤
Thanx 2 Phil 4 his help on this webisode & special thanx as always to Mcasual Jacques in Canadia 4 making Deb's new flag pumps!
OK u guys have fun, I must rest, I tell you! MUST!
TTFN darlings!
❤AA❤
Everything we do is ©2011 Heroical Masterings
This work is licensed under a Creative Commons Attribution-NonCommercial-NoDerivs 3.0 United States License.
Attribution: by Those American Girls and Peter Bernard – more info at aliciaamerican.com
Released July 2011 on The Overnightscape Underground (onsug.com), an Internet talk radio channel focusing on a freeform monologue style, with diverse and fascinating hosts