Podcast: Play in new window | Download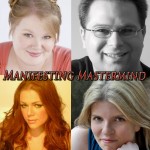 1:00:03 - Jen, Brian, Alicia, Kay, Matt & Melissa return to Legends Diner in Secaucus, NJ, once again with Brian's son David. In this episode, we discuss changing your thoughts from lack to abundance, how the universe/your higher self has already had your goal set for you since before you were born, being in your truth, how much of our resistance comes from the subconscious level and the importance of keeping still and being happy.
Tips of the Week: Keep a Mental Bank log for everything you do that helps you further your goals, and mentally "bill" for that time, including meetings, social events, etc. and keep track of how much money you "earn" for such time. Also, keep a symbol for the universe to remind you that you're right on track.
WE ARE CREATING A CHILDREN'S TELEVISION SHOW! Using our talents for acting, music, and film/video production, and combined with passion for all things positive as well as puppetry, we have been planning a "secret" project designed to teach positive thinking, visualization, and other Law of Attraction techniques to kids! Perhaps as a pilot to pitch to a television network, or as a stand-alone DVD… we're not quite sure yet, but we are planning this now! YOU CAN HELP MAKE THIS HAPPEN! Brian's company Dragon Rider Productions has been entered into Chase's Mission: Small Business program for a chance to win a $250K grant which will help fund this new project, as well as Brian's film The Miracle Man! If you are a Facebook user, you can go to http://missionsmallbusiness.com, log in with Facebook, and in the Business Name box enter Dragon Rider Productions! Help manifest a positive future by helping us, and please pass it on! THANK YOU!!!
Come see Kay in Stephen Sondheim's "Assassins" at The Barn Theatre in Montville, NJ. June 1, 2, 8, 9 at 8pm
June 3 at 2pm
Do you have a restaurant or establishment that you'd like us to promote? Contact us!
Want us to help meditate on your goals & dreams? Leave a comment below, or e-mail us at manifestingmastermind@gmail.com!
Follow us on Twitter at http://twitter.com/ManifestingMM
"Like" us on Facebook at http://www.facebook.com/pages/Manifesting-Mastermind/152916034831504 (permanent link forthcoming)
Thanks to http://www.purple-planet.com for supplying our theme music!