Podcast: Play in new window | Download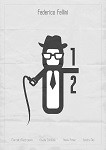 (28:07) Marc Rose (of Fusebox) and Jimbo talk about a few of their favorite (many more than four) non-English-speaking (mostly) films.
The 400 Blows .. Blowup .. Bicycle Thieves .. 8½ .. Bob le flambeur .. The Children are Watching Us .. The Wages of Fear .. Black Cat, White Cat .. The Red Balloon (short) .. Malcolm
---
More 'FOUR FILMS'
Four Films – 01 Radiation (3/10/2017)
This work is licensed under a Creative Commons Attribution-NonCommercial-NoDerivs 3.0 United States License.